Wellbeing
We pride ourselves in the Wellbeing support we offer our pupils and have put together a comprehensive guide of the services we provide.
Please click on any box below to see the individual elements of our Wellbeing support.
Pupil Support
Celebrating Success
To aid the wellbeing of all pupils at Norbury Manor Primary School we offer a variety of ways to help them feel safe and supported at all times.
From KS1, when a pupil has remained on the sunshine throughout the whole term, he or she will become a Rainbow Child. They will receive an agreed special treat, a letter home to parents, be mentioned in the Headteacher's newsletter and praised during celebration assembly.
Each week, class teachers choose one pupil to receive a gold certificate in the Friday celebration assembly. The certificate will highlight the notable academic or social achievement that is being recognised and link it to our school values. Class teachers will ensure that all pupils can have their efforts and achievements recognised across the school year.
Positive Praise Postcards/E-cards
A message from the class teacher or another member of staff celebrating a child's achievement is sent home on a postcard. These postcards are sent when significant and notable achievement has taken place.
From KS1 pupils can receive a Golden Ticket from any member of staff. Golden Tickets are issued when children have demonstrated behaviours in line with the golden rules of the school – in class, at playtimes, during assemblies, moving around the school, in the dining hall etc. The child with the most Golden Tickets in each class at the end of a term will be rewarded with a small treat.
Whole Class Rewards
Every child can receive Golden time.
Each class teacher organises a weekly Golden Time session lasting 20 minutes when children can choose to join in with one of the several organised activities that are on offer. The class teacher and TA organise this and directly support the pupils to engage with activities to help reinforce and model positive social interaction skills. Golden Time activities can take place in or outside the classroom.
These are issued in a class by the teacher or additional educator when a group of children follow instructions well or show good learning behaviours.
Points are recorded, and the table with the most points receive an in-class reward.
Classes are rewarded for good behaviour demonstrated in every aspect of the school by a member of SLT- lining up properly, displaying good manners in the dinner hall, moving around quietly and calmly etc.
These points will be recorded in class, and the winner at the end of each half term will have either a mufti day or extra playtime; for example, in the adventure playground.
Class Dojo
ClassDojo is a simple, safe classroom management app that helps teachers encourage students in class. At Norbury Manor Primary School we want to help them focus on building important life skills such as working hard and participating. We encourage this by embedding the pupil reward system with the School RESPECT values.
Although rewards are central to the encouragement of good behaviour, realistically there is a need for sanctions to register the disapproval of unacceptable behaviour and to protect the security and stability of the school community.
Class Dojo is therefore also linked to the consequences and sanctions system and is used to highlight pupil bad choices throughout the whole day.
Conflict Resolution
At Norbury Manor Primary School we take great care and process to resolve any conflicts which may arise between pupils. This is firstly done through children reporting any problems to a member of staff. All parties involved including any witness will then write an incident report (scribed if necessary) to get a fair reflection of the situation. A member of SLT or the mentoring team will then investigate and gather a verbal account from both sides.
Children will then sit together, discuss what's has happened and how it has made the other person feel. Appropriate sanctions if any will the be made based on our behaviour policy.
To read our latest behaviour policy please click here.
CAMHS
Child and Adolescent Mental Health Services (CAMHS)
CAMHS is used as a term for all services that work with children and young people who have difficulties with their emotional or behavioural wellbeing.
Local areas have a number of different support services available. These might be from the statutory, voluntary or school-based sector, such as an NHS trust, local authority, school or charitable organisation.
Children and young people may need help with a wide range of issues at different points in their lives. Parents and carers may also need help and advice to deal with behavioural or other problems their child is experiencing. Parents, carers and young people can receive direct support through CAMHS.
What are specialist CAMHS?
Specialist CAMHS are NHS mental health services that focus on the needs of children and young people. They are multidisciplinary teams that often consist of:
psychiatrists
psychologists
social workers
nurses
support workers
occupational therapists
psychological therapists – this may include child psychotherapists, family psychotherapists, play therapists and creative art therapists
primary mental health link workers
specialist substance misuse workers
Mental health problems affect about 1 in 10 children and young people. They include ADHD, autism spectrum disorders depression, anxiety and conduct disorder, and are often a direct response to what is happening in their lives.
Alarmingly, however, 70% of children and young people who experience a mental health problem have not had appropriate interventions at a sufficiently early age. The emotional wellbeing of children is just as important as their physical health. Good mental health allows children and young people to develop the resilience to cope with whatever life throws at them and grow into well-rounded, healthy adults.
Things that can help keep children and young people mentally well include: being in good physical health, eating a balanced diet and getting regular exercise having time and the freedom to play, indoors and outdoors being part of a family that gets along well, most of the time going to a school that looks after the wellbeing of all its pupils taking part in local activities for young people.
Other factors are also important, including: feeling loved, trusted, understood, valued and safe being interested in life and having opportunities to enjoy themselves being hopeful and optimistic being able to learn and having opportunities to succeed accepting who they are and recognising what they are good at having a sense of belonging in their family, school and community feeling they have some control over their own life having the strength to cope when something is wrong (resilience) and the ability to solve problems.
Most children grow up mentally healthy, but surveys suggest that more children and young people have problems with their mental health today than 30 years ago. That is probably because of changes in the way we live now and how that affects the experience of growing up.REF: NHS England

If you would like to find out more about (CAMHS) services and how they may help click here and here.
If you would like to find out more about support in Croydon click here.
Mentoring and ELSAs
The Learning Mentor and ELSAs (Emotional literacy support assistants) at Norbury Manor Primary provide support and guidance to children to help them overcome social, emotional and behavioural problems which act as barriers to learning.
They ensure that individual pupils and students engage more effectively in learning and are participating in the life of the school.
Learning mentors help pupils to identify and address what barriers are getting in the way of their learning. They do this by building professional helping relationships with pupils who have been referred to them, working with them both inside and outside the classroom, on a one to one basis or in small groups, with a focus on the school's RESPECT values.
The mentoring process allows space and time for children to identify and focus on the positive changes they want to make for themselves and the path by which they will achieve these changes.
How Norbury Manor helps
The learning mentor motivates and empowers pupils to further learning and challenges their expectations and their views of the learning process. The mentoring relationship explores solutions, develops personal growth, raises aspirations and negotiates targets and boundaries, while giving encouragement and support in applying new skills and attitudes to the classroom and beyond, assisting children to achieve their full potential.
1:1 support for pupils within and outside the classroom
Small group work based on Wave approach
Carrying out Social Skills Groups
Listening to pupils and giving them the opportunity to discuss any worries or fears
Developing supportive relationships with parents/carers to work in partnership to address, and offer advice on, their concerns and worries
Pupil conflict resolution
Multi agency liaison
Attending TAC and other external child support meetings
Supporting children at risk of exclusion
Our Pupil and Parent Support Officer inducts new pupils to the school and acts a single point contact for parents/carers during this process. She also supports children and families who are in need of additional help in areas such as: daily routines, parenting issues, facilitating positive relationships between home and school, managing finances, housing issues, housing management and accessing activities and resources in the local area.
To find out more about ELSA (Emotional literacy support assistants) support please click here.
Young Carers
A young carer is someone under 18 who helps look after someone in their family, or a friend, who is ill, disabled or misuses drugs or alcohol.
The Young Carers in Schools (YCiS) initiative is run jointly by Carers Trust and The Children's Society.
What might a young carer do?
Practical tasks, such as cooking, housework and shopping.
Physical care, such as helping someone out of bed.
Emotional support, such as talking to someone who is distressed.
Personal care, such as helping someone dress.
Managing the family budget and collecting prescriptions.
helping to give medicine
Helping someone communicate
Looking after brothers and sisters.
Norbury Manor Primary school are working with Croydon Young Carers Service at Off the Record to apply for the Young Carers in Schools Award. This award is a national initiative run by the Carers Trust and The Children's Society to equip schools with necessary tools and training, and award best practice.
If you require additional information or support please do not hesitate to contact us on 0208 679 3835 or support@nmp.croydon.sch.uk
Healthy Schools Award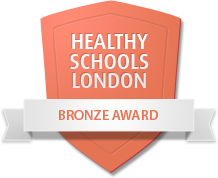 Norbury Manor Primary School has successfully achieved the Healthy Schools London Bronze Award.
Healthy Schools London, launched in 2013, is an award scheme sponsored by the Mayor of London. It recognises and celebrates schools that are making a difference for their pupils.
Healthy Schools London works with London's boroughs and schools to build a programme that schools are proud to be part of, and helps London's children to be healthy, happy and achieve.
Free Bagel Breakfast
Norbury Manor Primary School are thrilled to announce that we have joined the government's National School Breakfast Programme (NSBP), which is being delivered by the charities Family Action & Magic Breakfast.
As a NSBP school we are pleased to offer a healthy school breakfast, available to all, and enjoy the benefits that brings, with children settled and ready to learn at the start of the school day.
Breakfast Bagels, are available in the Dining hall from 8:30 am - 9:00 am.
Please do not hesitate to contact us should you have any queries relating to the programme.
Below is a list of the ingredients, allergens and advisory information relating to the bagels used in the National School Breakfast Programme food.
Ingredients for Magic plain Bagel
Wheat Flour, Water, Wholemeal Flour, Sugar, Salt, Yeast and Malt
Wheat Flour (gluten), Wholemeal flour (gluten)
Made in a factory which uses mile products, contains wheat gluten and yeast and contain sesame seeds.
Save